Why is it so important to wear a helmet?
Why are concussions such a big deal?
These are some of the questions FVBIA can help answer through our brain injury awareness and prevention activities.
Safety Presentations & Booths
FVBIA can set up a booth or bike rodeos at your community event with colouring pages, a chance to spin the Safety Wheel with safety questions, small giveaways and literature on bike safety and the need for helmets. Contact us at info@fvbia.org for more information.
FVBIA also provides:
General information on acquired brain injury
Presentations on prevention and awareness of brain injury
Education for family members, including children and siblings of survivors
Training and education for professionals
If you are looking for more information, presentations on brain injury and prevention or support because you or someone you know has had an acquired brain injury, please contact us.
Coloring for Prevention
Coloring Contests
FVBIA runs a colouring contest in June for Brain Injury Awareness Month in our local newspapers.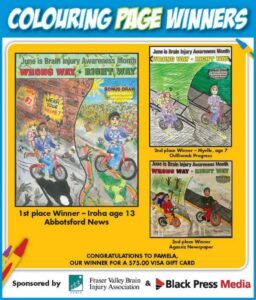 Brain Injury Awareness Colouring Pages